Obama and the Economy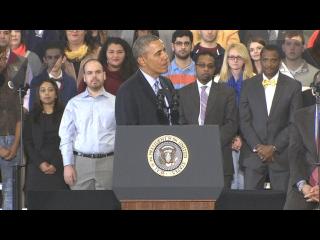 NATO IS SUSPENDING MOST OF ITS TIES WITH RUSSIA OVER THE MILITARY INCURSION IN CRIMEA.
       THE RUSSIAN FOREIGN MINISTER IS STILL REFUSING TO MEET HIS UKRAINIAN COUNTERPART IN PARIS.
       AND HERE AT HOME — PRESIDENT OBAMA IS BEING SAVAGED — FOR A LACK OF LEADERSHIP.
       THE PRESIDENT RESPONDED — SOMEWHAT– BY EQUATING THE UKRAINE SITUATION — WITH HIS QUEST HERE AT HOME — TO RAISE THE MINIMUM WAGE.