NFL Scandals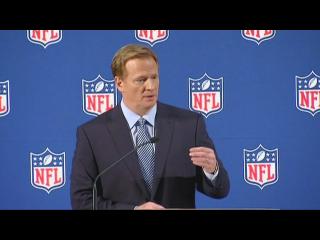 N-F-L COMMISSIONER ROGER GOODELL — UNDER FIRE OVER HIS HANDLING OF THE RAY RICE DOMESTIC ABUSE CASE… AS OTHER CASES MOUNT UP..
       AND IT APPEARS THAT BIG NEWS CONFERENCE HE HELD YESTERDAY (9/19) TO FIGHT BACK AND ANSWER SOME OF THE QUESTIONS.. HASN'T HELPED TOO MUCH.
       TURNS OUT, SOME CURRENT AND FORMER PLAYERS ARE CRITICIZING GOODELL —  SOME EVEN CALLING FOR HIM TO RESIGN.
       BUT THE COMMISSIONER IS STEADFAST….MAKING IT CLEAR THAT HE INTENDS TO DO NO SUCH THING.