San Francisco Hazmat Manhunt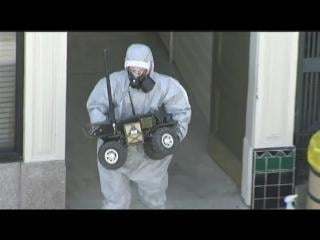 THE F-B-I  STILL SEARCHING FOR A MAN WHO WAS DISCOVERED HAVING A LARGE STASH OF RICIN INSIDE HIS APARTMENT IN SAN FRANCISCO.
       AGENTS IN HAZMAT GEAR CONTINUED SUNDAY (6/1) TO REMOVE THE POISON FROM THE CRIME SCENE.
       OFFICIALS CONSIDER THE SUSPECT ARMED AND DANGEROUS AND ARE CONCERNED HE MAY HAVE RIGGED HIS CAR WITH EXPLOSIVES.