Obama/GOP Voting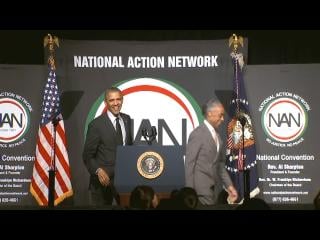 NEW REACTION TONIGHT TO PRESIDENT OBAMA'S COMMENTS CLAIMING THE G-O-P IS TRYING TO CLAMP DOWN ON VOTER RIGHTS.
       ON FRIDAY (4/11), THE PRESIDENT ACCUSED REPUBLICANS OF LEADING A NATIONWIDE EFFORT TO ENACT VOTER I-D LAWS TO ESSENTIALLY MAKE IT HARDER FOR MINORITIES AND THE POOR TO VOTE.
       SUPPORTERS OF THE LAWS HAVE LONG ARGUED THEY ARE NECESSARY TO PREVENT VOTER FRAUD… AND SAY LEGAL FORMS OF IDENTIFICATION AREN'T HARD TO GET.