Plane Search Continues in Australia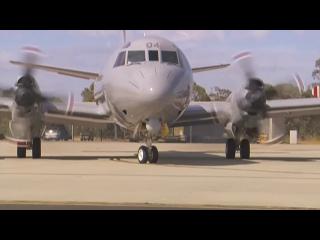 IT HAS NOW BEEN TWO WEEKS SINCE MALAYSIAN AIRLINES PLANE THREE-SEVENTY DISAPPEARED FROM RADAR SCREENS…AND OFFICIALS ARE STILL NO CLOSER TO FINDING OUT WHAT HAPPENED TO THE MORE THAN TWO HUNDRED PASSENGERS ON BOARD.
       THE SEARCH FOR WRECKAGE NOW EXTENDS TO LARGE AREAS OF THE SOUTHERN INDIAN OCEAN…AND INCLUDES SOME OF THE WORLD'S MOST ADVANCED MILITARY TECHNOLOGY AND AIRCRAFT'S.
       BUT FOR MANY OF THE FAMILIES AND TEAMS INVOLVED IN THE SEARCH FOR THE MISSING FLIGHT…HOPE IS STARTING TO FADE.