CPT Leigh Swafford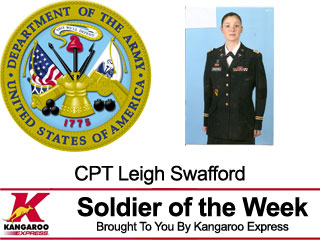 CPT Leigh Swafford is a physical therapist in the Army at Fort Huchucha, AZ.  She graduated from Ithca College in 2005.  Her first duty station was Fort Hood, TX and she deployed to Iraq in 2009, receiving a Bronze Star.  In 2011 she was received an award from the Surgeon General for the physical therapy clinic she established in the gym at Fort Hood and she also received an award from the Medical Corp as a top performer.
 
---
Each Thursday Night on Not the News, Greg and Kristine will profile a different member of our Armed Services currently serving.
Brought to you by
Kangaroo Express is an active supporter of US Military Veterans.  Support the troops by supporting Kangaroo Express!
You may also want to visit the Blue Star Mothers of  Coastal Carolina, Grand Strand Blue Star Mothers, and Kangaroo Express!